June 17, 2014
Mango Tart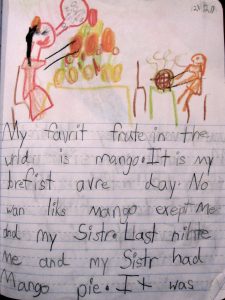 On a Friday afternoon several months ago, I went to pick up my first-grader, Orli, from school. As I entered the school auditorium, the site of the end-of-week assembly, I was descended upon by three of her teachers who rather excitedly started telling me that Orli had written all about my mango pie in her journal, and had told them how delicious it was — and could they please have the recipe. I stared back at them blankly, reluctantly telling them that I had no idea what they were talking about. Their faces fell. "What do you mean? She was so vivid and detailed…" Vivid and detailed she may have been, but that journal entry was pure creative writing.
Challenge accepted.
The idea of a mango pie has been lurking in the back of my mind ever since, periodically surfacing just to stump me, then receding back into the shadows. I love mangos. I have made mango salsa, mango marinades, caramelized mango, mango sorbet, but never mango pie. I also wanted the mango to be the star, nay, the Diva, of the recipe. Mango wasn't going to share the spotlight with other tropical flavors. She was going to get her own spotlight.
After a lot of head scratching and several epiphanies, I was thrilled with the result.  I even made three tartlets and delivered them to Orli's teachers. Mrs. B, Mrs. H & Mrs. D, this one is for you!
---
MANGO TART WITH MACADAMIA-COCONUT CRUST
A macadamia-coconut crust holds together a creamy mango curd topped with diced fresh mango. Make sure you use mangos that are ripe but still firm. And don't rush the curd – your patience will be rewarded.
Ingredients:
For the Mango Curd:
2 ripe mangos, peeled, pitted, and cut into pieces
1 cup (7 oz/200g) sugar
Juice of 2 limes (approximately 4 Tbsp)
1 tsp sea salt
8  large egg yolks
1 stick (4 oz/113g) unsalted butter, at room temperature, cut into pieces
For the Crust:
1½ oz macadamia nuts, toasted and cooled
1Tbsp granulated sugar
1 tsp sea salt
1¾ cup (7.5 oz/210 g) all purpose flour
3 Tbsp (0.75 oz/21 g) coconut flour
9 Tbsp (4.5 oz/128 g) unsalted butter, chilled, cut into pieces
3-5 Tbsp ice water
For Assembly:
2 ripe mangos, peeled, pitted, and neatly diced.
Directions:
For the Mango Curd:
Puree the mango, sugar, lime juice, and sugar in a blender until smooth, scraping down the side of the pitcher as needed. Add the yolks and blend until smooth and fully incorporated
Strain the puree through a fine sieve (to make sure you catch any stray mango fibers) into a heatproof bowl.  Discard any solids caught in the sieve.
Set the bowl over a pot containing about 1-inch of simmering water, making sure not to let the bowl touch the water. Whisk the puree continuously until the mixture has thickened and the temperature reaches 170°F.
Carefully remove the bowl from the pot to a heatproof surface and whisk in the butter 1 Tbsp at a time until fully incorporated.
Smooth the surface of the curd so it is relatively level and cover the bowl with a piece of plastic wrap, pressing the plastic directly onto the surface of the curd – this will prevent a skin from forming. Refrigerate overnight.
For the Crust:
Pulse the toasted macadamia nuts, sugar and sea salt in the bowl of a food processor until finely ground. I like to use a mini-prep for this type of work. (Wallet-friendly investment and takes up no storage space.)
Transfer nut-sugar mixture to the bowl of a standing mixture fitted with a paddle attachment. Add all purpose and coconut flours and blend until well incorporated.
Scatter the butter pieces and blend until the butter has been broken up and the mixture looks like coarse cornmeal.
Add the ice water 1 Tbsp at a time just until the mixture comes together and forms a ball.  Wrap the dough ball in plastic, flatten into a disc, and refrigerate at least 30 minutes.
Preheat the oven to 375°F. Roll out the chilled dough on a lightly floured surface and press into a 10" fluted tart pan with a removable bottom, pressing the dough into all of the grooves and pricking holes in the bottom with a fork. Line with a piece of aluminum foil, fill with pie weights or dried beans, and bake for 15 minutes.  Carefully remove the pie weights or beans and the foil and bake for an additional 5-10 minutes.  Set aside to cool.
For  Assembly:
Preheat oven to 400°F and set an oven rack to the center position.
Pour mango curd into cooled crust and smooth surface.
Bake 10-15 minutes until curd puffs up slightly, removing from the oven before the surface starts to brown.
Cool completely.
Before serving, cover surface with fresh diced mango. Slice and enjoy!