May 12, 2014
Ah, springtime. The trees are blooming, the birds are chirping, the Uggs have been relegated to the back of the closet…and fights are breaking out at the local farmers market over the daily delivery of ramps. They are only in season for a few short weeks every spring – essentially for the month of May – and it is a race to the farmstand in the wee hours of the morning to get at the daily supply. It's chef vs. foodie in in the culinary Thunderdome. Two men enter, one man leaves. And he gets the ramps.
Thanks to my friends over at Good Eggs, the amazing online farmer's market headquartered down the hall, I was able to get my hands on a huge amount of the luscious allium without having to bust out my gladiatorial skills at the crack of dawn.  On the subway ride home, I did have this irrational fear that I would be mugged by ninja chefs out to steal my bag of ramps, but that turned out to be pure paranoia. (Or was it?)
Ramps, otherwise known as wild leeks, are a wild onion that can be used like a scallion, but with a wilder taste that resembles garlic. Aside from the root the entire plant, from the bulb to the leaf, is edible.
In honor of the remarkably short ramp season, I am going to stray from the conventional one-post-one-recipe formula to which I (and most bloggers) generally adhere. Below are three delicious ramp recipes that give you plenty of reason to join the ramp-race. May the best chef win.
SIMPLY ROASTED RAMPS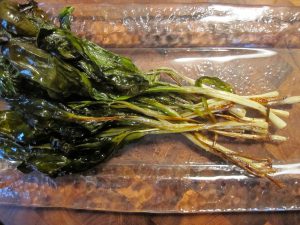 Cooked ramps at their purest. The bulbs soften and sweeten and the leaves get crispy and crunchy. Don't skimp on the Sel gris – it really makes the flavors of the roasted ramps pop. A delicious accompaniment to roasted chicken.
Ingredients
¼ lbs ramps
2 Tbsp olive oil
Sel Gris de Guerande
Freshly ground black pepper
Directions:
Preheat the oven to 425°F. Line a baking sheet with foil and spray with non-stick spray.
Cut the roots off the ramps and rub off the outer thin layer from the bulb. Run the prepped ramps under running water to clean off any remaining dirt and pat dry.
Toss ramps in a bowl with 2 Tbsp olive oil. Sprinkle with salt and pepper to taste. Arrange in a single layer on the prepped baking sheet.
Roast for 10 minutes until leaves start to turn crispy around the edges.
RAMP AND HERBED GOAT CHEESE PIZZA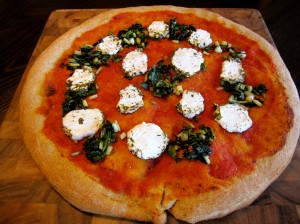 The creaminess of the goat cheese balances the garlickiness of the ramps. The whole wheat crust adds a nutty undertone. My new favorite spring pizza.
Ingredients
For the Pizza Dough:
¾ cup warm water (~110°F)
½ packet (⅛oz/4g) active dry yeast
½ tsp honey
1 cup (4¼ oz/135g) bread flour
1 cup (4¼ oz/135g) whole wheat flour
1 ½ tsp (¼ oz/10g) sea salt
1 Tbsp olive oil
For the Ramps
¼ lb ramps, cleaned and trimmed, coarsely chopped.
1 Tbsp olive oil
sea salt
freshly ground pepper
For Assembly
2 Tbsp olive oil
½ cup of your favorite tomato sauce
2 oz (½ log) herbed goat cheese
Directions
Combine warm water, yeast, and honey in a measuring cup and set aside for 5 minutes to proof. (If the mixture does not become foamy, it means your yeast was no good. Discard and try again with a fresh packet of yeast.)
In the bowl of a standing mixer fitted with a dough hook, combine bread flour, whole wheat flour, and sea salt. Turn mixer on for a few spins to combine the dry ingredients.
Add olive oil to yeast mixture. With the mixer on low speed, slowly pour yeast mixture into flour mixture until fully combined. Allow mixer to "knead" dough for 7-10 minutes.
Form dough into a ball and put unto a clean, oiled bowl. Roll the dougb around in the oil several times to coat. Cover bowl with plastic wrap and set aside for two hours.
Preheat the oven to 500°F. Move the oven rack to the very bottom of the oven.
Gently punch down the pizza dough. Stretch into your pizza pan. Brush with 2 Tbsp olive oil. Evenly spread with tomato sauce, leaving a one-inch un-sauced border.
Bake for 10 minutes.
Meanwhile, heat 1 Tbsp oil in a saute pan over medium heat. Add the ramps, sea salt, and pepper and saute until bulbs are softened and leaves have wilted, 5-6 minutes. Remove from heat.
Remove pizza from oven, dot with ramp mixture and blobs of goat cheese and return to the oven for an additional 5 minutes.
10. Cut and enjoy!
SAVORY BUTTERMILK RAMP BISCUITS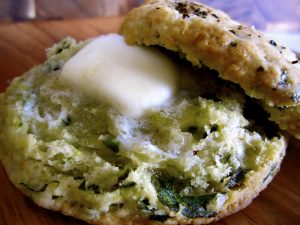 A super-savory twist on an American classic. This is not your typical southern biscuit. Off-season, try substituting scallions for a similar effect.
Ingredients:
2½ cups (12½ oz) all purpose flour
1 Tbsp baking powder
½ tsp baking soda
1 tsp sea salt
1 tsp pepper
2 Tbsp (1 oz) all natural vegetable shortening, cut into ½" chunks
8 Tbsp (4 oz) unsalted butter, chilled, cut into 16 slices
1 cup buttermilk, chilled
¼ lb (4 oz) ramps, roots removed, bulbs, stems, and leaves finely chopped
2 Tbsp (1 oz)  unsalted butter, melted and cooled
Sel gris de Guerande
Freshly ground pepper
Directions
Preheat the oven to 450°, and set the rack in the center of the oven. Line a baking sheet with parchment paper.
In a large bowl, whisk together the flour, baking powder, baking soda, salt and pepper.
Add the shortening to the bowl, and use your fingertips to incorporate it into the flour mixture.
Add the butter slices a few at a time, and use your fingertips to incorporate them. Work quickly and resist the urge to use the rest of your hands, so as not to warm up the butter too much.
Add the cold buttermilk and the ramps and stir mixture just enough to incorporate the liquid. The dough will be very sticky.
Turn the dough out onto a very generously floured surface, flip a few times to coat in the flour, and roll into a cohesive ball.
Use your hands to pat the ball into a ¼" thick rectangle. Fold the rectangle in on itself like an envelope, rotate 90° and repeat. Repeat the process 4 times.
Pat the dough into a ½" thick square and cut into 9 3-inch rounds using a biscuit cutter or a drinking glass. Assemble the scraps, press into a ½" thick rectangle, and cut 3 more pieces.
Arrange the 12 biscuits on a baking sheet. Brush with melted butter and sprinkle with a scatter of salt and pepper.
Bake 15-18 minutes (without opening oven door) until biscuits are golden. Allow to rest on the baking sheet 5-10 minutes before eating.