April 10, 2014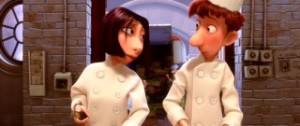 "Mark of a chef: Messy apron, clean sleeves." – Collette, Ratatouille
Today's blog post was supposed to be all about the bakery build-out, from empty shell to fully functional space. With photos.
Instead, I'm going to put that post on hold and tell you a story. The reasons will become clear shortly.
My husband and I were married in August of 2004. As September approached, and thus our first Jewish High Holidays as a married couple, I took it upon myself to provide desserts for all of the Rosh HaShanah meals as my contribution to the holiday – a role I still play almost 10 years later. On the menu, rum laced chocolate mousse. But why would I leave well enough alone? I set another precedent that year, and decided to get over-ambitious and way ahead of myself and thought it would be lovely to present the mousse in hand made chocolate cups, achieved by dipping lightly oiled balloons in melted chocolate, letting them set in the refrigerator, deflating the balloon, and gently removing them from the set chocolate shell. What could go wrong?
Meanwhile, in the bedroom, my husband was innocently and obliviously immersed in his Secure Transactions casebook (did I mention that he was in his third year of law school?) when he heard a shriek from the kitchen. He dropped what he was doing and ran to the kitchen to find his new bride, and half of the kitchen, covered in chocolate. A balloon had popped. For months, we were still finding overlooked flecks of chocolate on the cabinets.
Why this walk down memory lane?
One of the cardinal rules of baking is to turn the mixer to low when you add the dry ingredients, lest you have a flour explosion. We've all made that mistake. Now, imagine what would happen if you added 20-plus pounds of flour to an industrial mixer and forgot to turn the speed to low.
My sleeves, somehow, remained clean.