May 6, 2014
Tarte aux Pommes à l' Alsacienne – Alsatian Apple Tart
Recreating a Childhood Recipe
My father was not a very prolific cook. Aside from his brilliant Thanksgiving turkey carving skills (usually carried out while wearing a tuxedo), his activity in the kitchen was limited to exactly four dishes:
Passover jelly rolls – of which he made about 10,000 every Passover, in various flavors, and ate every morning for breakfast. And tried to feed us.
Brioches – which no one remembers but my mother
Lemon Chicken – which no one remembers but me
Tarte aux Pommes a l'Alsacienne – the Alsatian Apple Tart.
He was very proud of the apple tart. It was the proverbial jewel in his culinary crown.  When I close my eyes, I can see him standing at the counter in the kitchen of my childhood apartment, carefully rolling out the dough, pressing the dough into each of the crevices of the fluted tart pan, methodically arranging the apples in perfect concentric circles (did I mention he had a Type A personality?) and, finally, pouring the custard over the whole assembly.
For years, I have wanted to recreate the apple tart. Finally, I had an excuse. My Grandmaman (my father's mother) was turning 91. What better birthday surprise than a taste of her Alsatian childhood?
As it turns out, my mother still has the cookbook containing the original recipe, complete with my father's annotations. However, there were three problems, presented here in order of difficulty: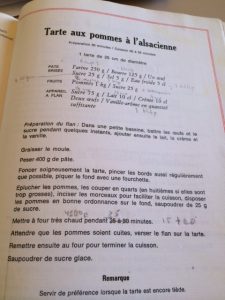 Problem #1: The recipe was in French – Easily overcome. My French is passable and my mother is fluent, so we sailed over that speedbump.
Problem #2: My father's handwriting is all but illegible. A longstanding problem. My mother and I muddled through that one.
Problem #3: The recipe was rather vague – specifying neither oven temp nor bake time. I was forced to rely on my father's notes (see problem #2) and ended up referring to my pastry textbook for the pate brisée recipe instructions.
In the end, it was brilliant. The tart tasted like my childhood. Even better, it tasted like my Grandmaman's childhood. Which was the whole point, right?
Tarte aux Pommes à l' Alsacienne – Alsatian Apple Tart
Ingredients
    For the Pate Brisée
                        2 cups (8.75 oz/250g) all purpose flour
                        2 Tbsp (7/8 oz/25g) sugar
                        1 tsp sea salt
                        1 stick (4 oz/125g) unsalted butter, slightly softened
                        1 egg yolk
                        3 Tbsp ice water
   For the Fruit
                        1 kg (approx. 3) golden delicious apples, peeled and cut in sixteenths.
                        2 Tbsp (7/8 oz/25g) sugar
    For the Custard
                        1/3 cup (2.5 oz/75g) sugar
                        1/3 cup milk
                        1/3 cup cream
                        2 whole eggs
                        1 Tbsp vanilla extract
                        ¼ tsp sea salt
Directions:
In the bowl of a standing mixer fitted with a paddle attachment, combine flour, sugar and sea salt until blended. Add butter and blend at low speed until just combined, scraping bowl as necessary.
Add egg yolk and blend. Drizzle in water, one tablespoon at a time, just until dough comes together. DO NOT OVERMIX.
Form dough into disc, wrap in plastic wrap, and refrigerate at least 30 minutes.
Preheat oven to 375°
Roll out dough to 1/8" thick and line 10" fluted tart pan with removable bottom, pressing the dough into the indentations. Prick the bottom with a fork, line with a double layer of aluminum foil, and fill with pie weights or dried beans.
Bake for 12 minutes. Remove the pan from the oven and carefully lift the foil with the pie weights from the crust.
Toss the prepared apple slices with the sugar.
Arrange the apple slices in concentric circles, starting from the outside and working your way in.
Return to the oven and bake for 15 minutes.
While the apples are baking, whisk together sugar, milk, cream, eggs, vanilla, and sea salt.
Pour over the apples and return to the oven for an additional 35 minutes. Cool completely.
Notes:  I encourage you to weigh the ingredients using a kitchen scale