Salt of the Earth Bakery is an artisanal baked goods company devoted to elevating the snacking experience. Our joy in life is reimagining classic treats, which is why we pair all of our goodies with handpicked sea salts and exotic spices. Our creations are the result of countless rounds of tastes and tests, and nothing goes into production unless it is simply the best we have ever eaten.
Our entire product line is all-natural and certified Kosher (OK-D)
Made in Brooklyn. Available across the tri-state area. 
Everything a cookie always wanted to be. ™
Our Story
 Salt of the Earth Bakery is a family affair and a labor of love.
Chef and co-owner Alexandra Joseph Rabbani developed a love of cooking and baking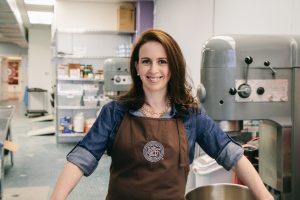 from time spent in her grandmother's kitchen. She and husband (and co-owner) Haskel met at the tender age of 14 at The Ramaz School in Manhattan. After going their separate ways for college, the University of Pennsylvania for her and Boston University for him, they returned to New York City and married in the summer of 2004. While Haskel was pursuing his law degree at Cardozo, Alexandra entertained herself by baking up a storm in the kitchen, making sweets to help him power through. After a lot of tweaking, a dash of salt, and some serious quality testing on Haskel's part, "The Cookie" was born. In a moment of daydreaming, the two thought up a name and purchased www.saltoftheearthbakery.com for just under $2.
At the continued urging of friends and family, Alexandra baked up a batch of The Cookie and headed to a local Whole Foods Market to test the waters. All it took was one taste and they were ready to place an order. With this, it was time to make the business a reality. Enter Haskel's brother (and co-owner) Joshua, Brandeis alum, as the CFO and sales-guru extraordinaire, and Salt of the Earth Bakery had hit on a winning recipe.
In the summer of 2011 the bakery began with a soft launch in the Hamptons, popping up at select shops and charity events. They continued to fine-tune their recipes and expand their product offerings. With perfected recipes and a growing fan base under their belt, Salt of the Earth Bakery found its way onto the shelves of Beecher's Cheese and O Café, quickly followed by Grace's Marketplace, Whole Foods Market, Balducci's, Newsbar and others, as well as in web-markets Good Eggs and AmazonFresh. With the launch of the Salt of the Earth Bakery e-shop, their products could be found in the homes of hungry foodies in all 50 states, and partnerships with sites such as The Grommet, Scoutmob, and MadeClose only served to heighten their reach.
In late March 2014, Salt of the Earth Bakery opened its own, independently run,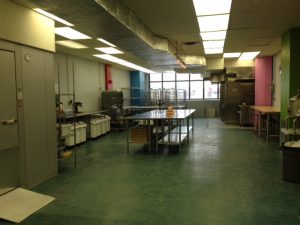 commercial baking facility in the Willamsburg section of Brooklyn. Housed in the Old Pfizer Factory, the 2,200 square foot space accommodates every aspect of their production flow from recipe development, to baking, to packing, rendering them entirely self-sufficient.