The Mud Pie
Chocolate loves Mississippi. We're from New York. So, when someone asked us to make a Mississippi Mud Pie for them, we had no clue where to start. After learning more about this amazing desert, we decided to make individual servings. A mud-fudge cake is filled with a pecan butter-marshmallow mixture, and the entire structure is enrobed in dark chocolate.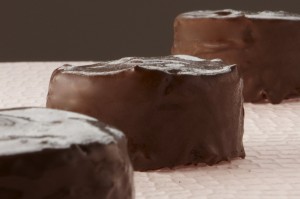 Salt
The mud-fudge base is salted with Sal Marina salt from Spain. This salt is subtle and allows the chocolate to shine.
The Pecan Butter – marshmallow filling is salted with one of our favorite salts, Sel gris de Guerande.