The final decision for each of our products is the choice of the ideal finishing salt.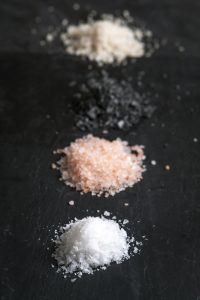 Maldon Flake Salt
Arguably the king of finishing salts, these perfectly-proportioned pyramidal crystals and flakes produce a fresh saltiness that elevates the flavors of anything with which it comes in contact. The salt makers at The Maldon Salt Company of Essex, England know what they are doing — salt has been produces in the area of the Blackwater Estuary since the Iron Age. It has taken 2,000 years of practice to achieve this salty perfection, but it was worth every second!
Used on: The Cookie, The Chocoholic, The Good & Evil

Halen Môn
Multiple layers of crunch deliver pronounced sea and sun flavors in this elegant sea salt from the Atlantic waters that surround the Isle of Anglesey, or Ynys Môn, in Wales. From the Welsh "halen môn gwyn a glan o gymru" ("pure white sea salt"), Halen Môn salt forms on the surface of crystallization tanks at night, sinking as the crystals grow, and is gently scooped out as the sun rises. Halen Môn is proud to be the only UK producer of Organically Certified Sea Salt, accredited by the Soil Association, to the most stringent of standards.
Used on: The Brownie, The Mayan
Kona Deep Sea Salt
Moist crystals with a fruit-fresh flavor, this traditional Hawaiian Sea Salt is harvested from the seawater just off the coast of the Kona district of Hawaii, using the warming heat of the Hawaiian sun. Kona is also the source of the finest coffees in the world, so it was no surprise that this salt was the perfect match for the strong espresso flavors of The Kona.
Used on: The Kona
Fleur de Sel de l'Ile de Ré and Sel Gris de l'Ile de Ré
Two different salts from the same salt-producing island in western France play off each other in The OMGCB. Possibly the most perfectly crafted artisan salt in the world, the delicate and refined Fleur de Sel de l'Ile de Ré consists of moist crystals with a clear but mild flavor that complements the richness of the caramel. Sel Gris de l'Ile de Ré has an earthy, briny aroma and a hearty crunch. One island, two salts, perfect family of flavors.
Used on: The OMGCB
Bali Rama Pyramid
One look at this unique salt from Bali, Indonesia and you are struck by the impossibility of the salt grains. Reminiscent of Balinese temples, these hollow pyramids are a result of cool, windy days marking the end of the monsoon season. This salt crunches in your mouth, exploding with a salty yet subtle briny island flavor.
Used on: The Wild Oat, The Heavenly Oat

Sources for this information include:
Bitterman, Mark.  Salted: A Manifesto on the World's Most Excellent Mineral, with Recipes. Ten Speed Press, 2010.