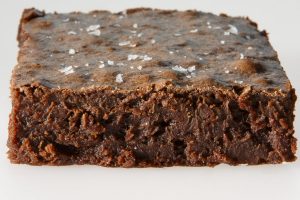 The Brownie
Chocolate loves…chocolate! For the brownie purists out there, we present the perfect brownie. A moist, dense, and fudgy texture showcases the 72% bittersweet chocolate to perfection, and the crunchy Halen Môn Sea Salt elevates the flavors to new heights.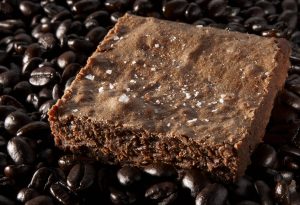 The Kona
Chocolate loves coffee. So we married them. Our intense chocolate brownie combined with aromatic espresso beans and topped with a dash of Kona Deep Sea Salt make the perfect pairing to a good cup of coffee, full bodied red wines or even a great cigar.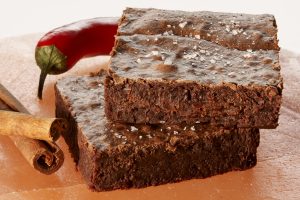 The Mayan
Chocolate loves history. Over 2000 years ago, the ancient Mayans made a chocolate drink with chili peppers and cinnamon. In tribute to these culinary geniuses,  we took our traditional dark chocolate fudge brownie base with a special blend of  cinnamon and cayenne pepper, and finished with a splash of Halen Môn Sea Salt. At first, it's pure chocolate bliss with the surprising cinnamon twist. Wait for it… wow, there's the heat.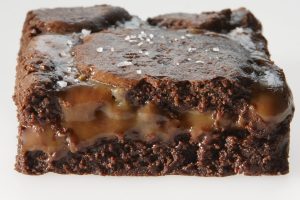 The OMG
Chocolate loves… OMG. There's no other way to describe it. Take a bite and try not to say it.  It will weaken your knees. It will introduce a new degree of decadence to your palate. Our luxurious chocolate brownie is punctuated with rivers of caramel, perfectly balanced with Fleur de Sel de l'Ile de Ré. The whole confection is topped with crunchy Sel Gris de l'Ile de Ré.
The PB
Chocolate loves Peanut Butter. What else needs to be said. We paired our decadent brownie base with a distinct layer of rich peanut butter. And just to push it over the edge, we added a sprinkle of Korean Sel Gris.
It knocks your childhood peanut butter cups out of the water.